here's what i wore last sunday, the day after the blizzard. i had to get out of my apartment after being holed in all night, plus i had a few more stocking stuffers to buy. it's certainly not a typical errand-running outfit, but it was warm and i had not worn the skirt in a while. it's at least 4 years old now!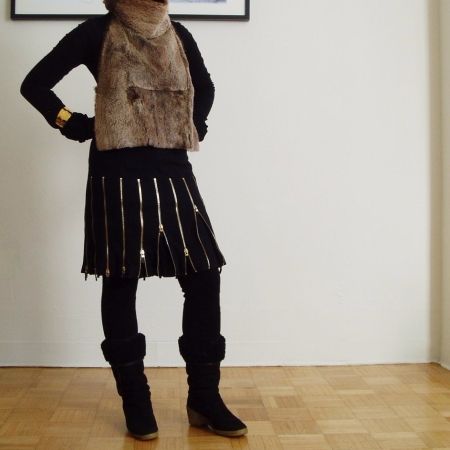 American Apparel lightweight turtleneck; Costume National furry vest (very old, from eBay); Alexander McQueen wool skirt with zippers (very old, from eBay); Bally boots ("borrowed indefinitely" from mom's closet); DKNY wool leggings; Cecile et Jeanne gold hammered cuff (from Cecile et Jeanne boutique on Madison Ave./NYC)
come to think of it, this combination works for my rick owens leather skirt as well...
same as above, except with Rick Owens leather skirt (from Barneys NY sale); Chloe boots (old, from DSW Shoes/NYC)