today i finally got the chance to debut the only item i purchased on the saturday-after-black-friday (i never go shopping on black friday, it's too exhausting!) although i only came away with one item the whole weekend, i made sure it was a good one - a rick owens drawstring leather miniskirt, marked down 40% at barneys. i fell in love with it at the beginning of the season but had given up on it, assuming it would never go on sale. but lo and behold, there it was on a very empty rick owens rack on the 5th floor of barneys. it's a size too big but that's what drawstrings are for! seriously, who but rick owens would put a drawstring waist on a leather miniskirt? and did i mention it had pockets?! i am officially in love.
at first i was hesitant to do the full leather suit, but i liked how it turned out.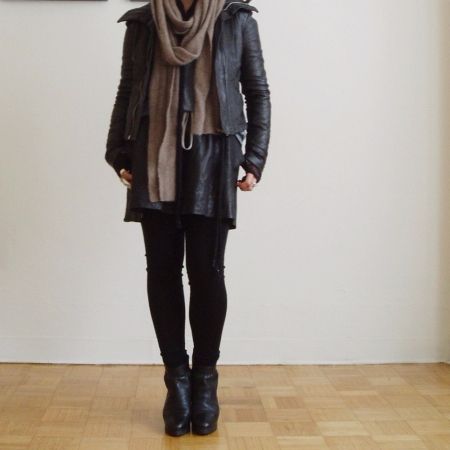 be prepared to see these chloe boots a lot this winter; i've been looking for another pair of black ankle boots but have yet to find ones that i really like.
ITEMS (rollover mouse to view detailed picture)
vintage leather jacket (old, from eBay)
Nation Ltd. gray top (from Intermix/NYC)
Rick Owens drawstring leather mini (**new** from Barneys sale/NYC)
Isabel Marant braided scarf (old, from eBay)
extra long Portolano cashmere scarf (from Filene's Basement/NYC)
lace fingerless gloves (from Intermix sample sale/NYC)
rings with Latin sayings (from Marc Jacobs accessories store on Bleecker St./NYC)
Elizabeth & James knuckle ring (from Intermix/NYC) and hammered silver ring (from Met Museum gift shop)
DKNY wool leggings
Chloe pull-on boots (from DSW Shoes/NYC)
i finished my christmas shopping this morning. i got back to my apartment just as the first snowflakes of the season started to fall. snow in the city is much prettier when you're warm and cosy indoors, watching the snowfall through your window...