i did not pack my camera when i went home for thanksgiving, so no pictures from new york. i did have this outfit to post though, from two saturdays ago:
Pringle 1815 sweater dress (old, from net-a-porter.com); Biba over-the-knee boots (from eBay); H&M tights
so more on over-the-knee boots...
those of you who followed me on stylediary know that i already own a few pairs of over-the-knee boots and have worn them frequently over the years, even before this year's trend. i still love the boots pictured above, but i felt that i needed a better black pair. the one i had was cheap, and you could kind of tell. it fell apart after a few wears. with over-the-knee boots increasing in popularity, this year was the right time to search for the perfect pair.
enter these fabulous boots by Biba...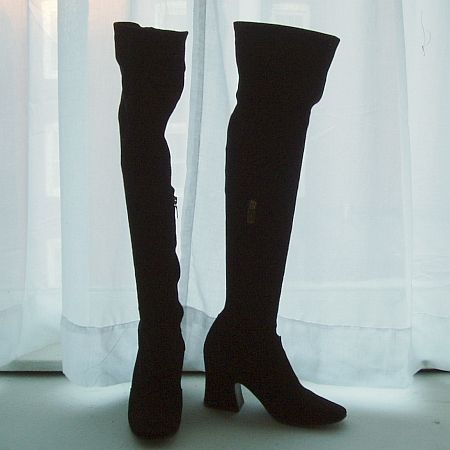 these are pretty darn near perfect. the heel is thick as opposed to stiletto, making these boots more "kate moss," less "julia roberts in pretty woman." the heel is also perfect walking height, so they are pretty much an everyday shoe for me. and when a new yorker says shoes are comfortable, you know they definitely are! unlike ahem - a lot of west coast bloggers who claim 4-inch heels are comfortable, probably because they are hopping in and out of cars most of the time - i can actually walk all day with them, up and down subway steps, from the bronx to soho. they are snug around my leg (unfortunately they do not stretch out much, so i would not recommend them for anyone with large calves; i have healthy calves from running and struggle to get the zipper up.) i actually first saw these boots on yoox and had them in my dreambox for the longest time. i held out from purchasing because they were quite pricey. then one day they vanished from my dreambox, and i had to resort to eBay. i thought i would have to wait several months, but lo and behold, after a couple of days of searching, they appeared in my size, for half the price on yoox! it was definitely meant to be!!
a reader asked how i take care of my boots. for suede boots, i spray them with
Garde Rain & Stain Repellent.
i do not spray my leather boots, because i kind of like it when they are a little beat up. i keep them in
boot shapers from Bed Bath & Beyond
, and always keep the dust bags (but throw away those big boxes) for storage in the winter. when they are stored away, i still keep the boot shapers in, i just lay them flat and pile them up behind my closet.
***the links for the stain repellent and boot shapers above are the exact ones that i use, and i believe they are the exact same merchants i purchased from as well. i hope that answers your question!***