for some reason the weather in philadelphia feels a bit milder than in new york. perhaps because the buildings aren't as tall there aren't as many wind tunnels? call me crazy, but the cold has a little less "bite" here in philly. perfect weather for sweater coats! with temperatures hovering in the 50s and 60s, i have yet to break out a coat. with just a few layers of silk jersey or cashmere (both lightweight fabrics that keep you warm), i can get away with wearing a chunky sweater as my outermost layer. i also throw in a scarf for added warmth, but often find myself unwinding it and sticking it in my bag, especially when the sun is out...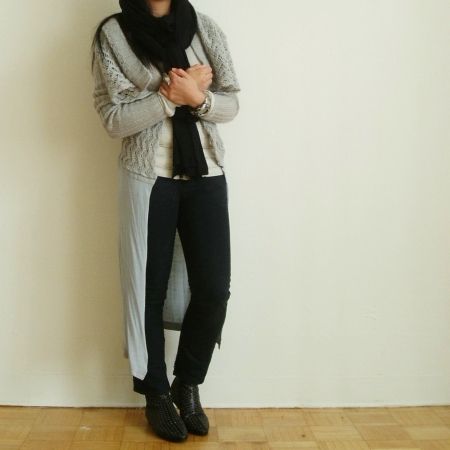 Helmut Lang (by Helmut Lang) pants (from Tokio7/NYC); Rick Owens Lilies zip-up (from Century21/NYC); Rick Owens combo open cardigan (old, from net-a-porter.com sale); Alaia studded boots (from Bergdorf Goodman clearance); Ann Demeulemeester scarf (from aloharag.com); Elizabeth & James knuckle ring (from Intermix/NYC)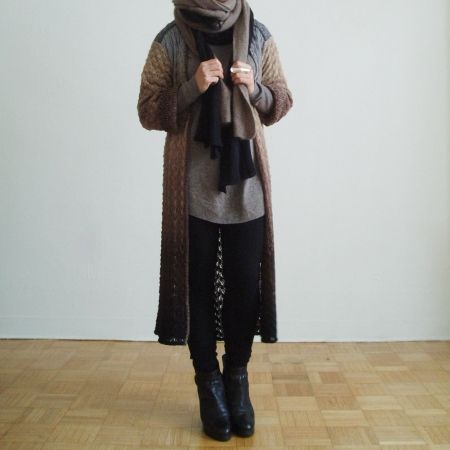 Missoni cardigan (from Filene's Basement/NYC); Autumn Cashmere shirttail hem sweater (from revolveclothing.com); Kier+J cashmere leggings; Chloe pull-on boots (from DSW Shoes/NYC); extra-long scarf made from two Portolano cashmere scarves from Filene's Basement; Ann Demeulemeester scarf (from aloharag.com); Elizabeth & James knuckle ring (from Intermix/NYC)
now that this blog has been up and running for a couple of seasons, you may have noticed that i use the same items over and over again. i don't like to amass tons of clothing and would rather have a few key pieces than a closet bursting at the seams, so i apologize for the repetition! sometimes it's difficult but i try to resist the temptation of buying clothes for the sake of showing something new on the blog. i will continue to add new pieces here and there, but until then be prepared to see a lot of familiar items!
i got the idea to layer two scarves from
Siena Fleming on stylelikeu
, it's quite ingenious and something that i'll be doing quite often from now on. i want more scarves! maybe that ought to be my shopping focus this winter...