office is closed today for the holiday weekend. have to go run some errands - buy sunscreen, find a present for my weekend hostess, etc., then maybe lunch at candle cafe on the UES. i'm the farthest thing from a vegetarian, but they have really good food. does anyone else do that - go for a last ditch effort to eat healthy just hours before you have to wear a bikini? lol.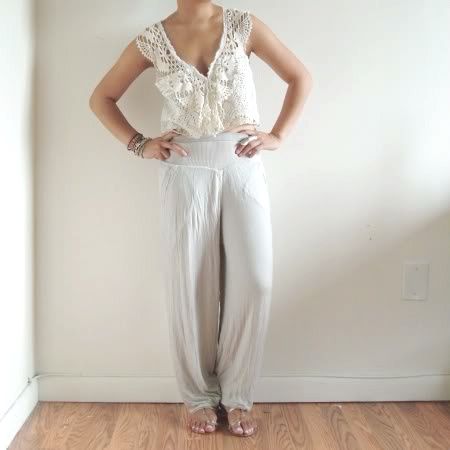 ITEMS (rollover mouse to view detailed picture)
Magda Berliner lace crop top (old, from lagarconne.com)
Rick Owens Lilies jersey pants (from eBay)
Giuseppe Zanotti gladiator sandals (old, from Bergdorf clearance)
Marc Bernstein triple wrap bracelet (from Young Designers Market, weekends on Mulberry St.)
Elizabeth & James knuckle ring (from Intermix)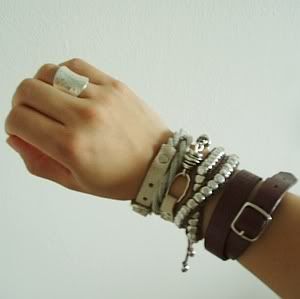 then this afternoon i'm off to a friend's family's beach house, which is in a private community on the opposite end of far rockaway.
Polo Ralph Lauren beach towel (so old, it has stubborn grass stains that refuse to come out in the wash, from picnics in central park), Karoo coverup, Chloe cotton t-shirt dress, red bikini and black eyelet bikini by Shoshanna Swim, Tomas Maier one-piece, leopard bikini by Letarte, Current/Elliot jeans, oversized shirt by SHIRT, Vivienne Westwood Anglomania shorts.
and rain or shine i am determined to debut my new tomas maier one-piece, which was a great find from filene's basement. i don't usually wear one-pieces because i think they make me look even shorter but this one is ultra flattering.
have a great holiday, everyone!