apologies for the lack of posting, but eight straight days of rain here in nyc made for some very uninspired outfits, all of which revolved around my hunter wellies.
but hooray, the sun came out today!
some of you might remember this sweater from my stylediary. it is so so old, but still in superb condition.
ITEMS (rollover mouse to view detailed picture)
Dolce & Gabbana sweater (from Filene's Basement eons ago)
Rick Owens Lilies drop crotch pants (from Century21)
Alternative Apparel oatmeal tank (from Century21)
Chloe platform shoes (from yoox)
Elizabeth & James knuckle ring (from Intermix)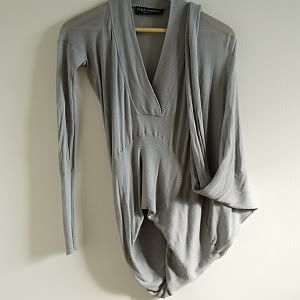 until you ride the subway during the puerto rican day parade, it's easy to forget that hispanics are quickly outpacing every other ethnic group in nyc (gotta get to work on my spanish!) i'm glad the sun came out for the parade. still, i try to avoid any sort of crowded situation (even sheep's meadow in central park on a sunny day with all the sunbathers and picnic-ers makes me irritable. random fact: sheep really did graze at sheep's meadow a long long time ago, and the shepherd and sheep were housed in what is now tavern on the green), so i gladly accepted my mom's invitation to play tourist and check out the newly opened
high line
, new york's answer to paris's promenade plantée, an above-ground railroad track no longer in use converted into a public park. it starts at the meatpacking district, far enough away from the parade throngs on fifth avenue. by the time i made my way down there, my mom had already walked through half of it and taken lots of pictures.
it's pretty cool, the landscaping was done really well. there's even a section with stadium-style seating where you can watch the, er, traffic below...
and an installation by spencer finch featuring glass panes tinted in all the colors of the hudson river witnessed at any given moment...
and it's also a great place to view frank gehry's cool sail(boat) building...
i really like the mix of old railroad tracks, concrete, and carefully selected low-maintenance weeds...
sorry for the crap video, it was taken on my blackberry. that's my mom in the video...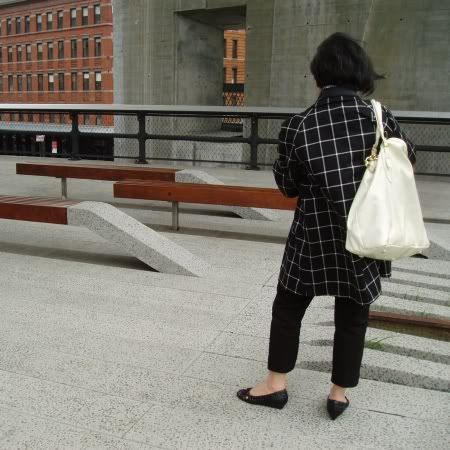 she is one stylish lady, all the more so since she shops exclusively at discounters like tjmaxx, marshall's, and daffy's. also, she's 50+ and has never dyed her hair.