as per a reader's request, here are a few rainy day outfits i wore this month. after so many consecutive days of rain (today included), new yorkers are well-versed in rainy day fashion - this june is predicted to be the 2nd coldest and one of the rainiest junes
ever.
a few days ago i was on the crosstown bus and in an attempt to lighten the mood, the driver announced "thank you for riding with mta. we hope you are enjoying the seattle weather exchange program." i did see a few weather-weary new yorkers crack a smile.
a few rainy day essentials in this outfit: black skinny pants for tucking into wellies (these particular ones have "equestrian" style patches on the inner leg, but i have tons of black skinnies in all different forms and materials), a scarf to protect my hair when the rain falls too lightly for an umbrella, and my patent leather bowler bag which has a slick surface so the rain rolls right off. there's a closeup of the bag
here
.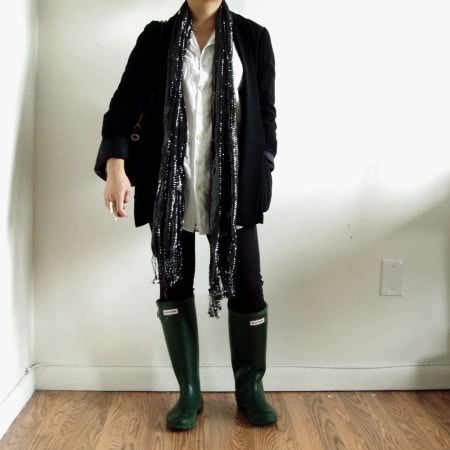 oversized shirt by "SHIRT" (from Intermix); Tt equestrian style pants (from Tokio7 consignment store); Balenciaga blazer (from eBay); street vendor sparkly scarf; Marc by Marc Jacobs patent leather bowler bag (old, from Barneys Co-op); Elizabeth & James knuckle ring (from Intermix)
a knee-length sweater is great for the rain in case you want to wear a cute dress. this length sweater will guard against those stains that you get when you kick up water and splash yourself as you walk.
DSquared trench dress (from Century21); D&G lace leggings (from Century21); Vince hooded sweater; Marc Bernstein triple wrap bracelet (from Young Designers Market on Mulberry St.)
boyfriend blazers and wellies make a great combination and a baseball cap is great for shielding your face (and mascara!) from light rain.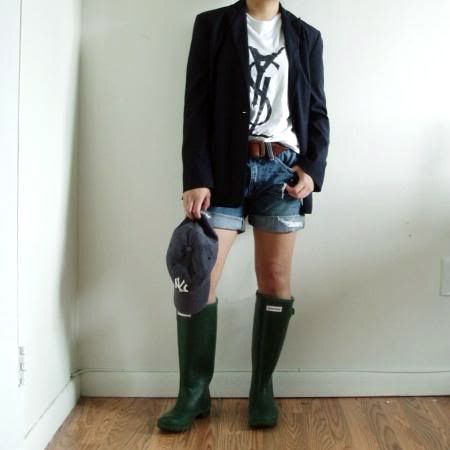 Calvin Klein Collection blazer (from Housing Works Thrift Shop, the Columbus Ave. location); YSL tee (from YSL boutique on 57th St.); AG boyfriend shorts (from shopbop or revolve i think? i forgot); Ralph Lauren belt from TJMaxx