as i was getting dressed i realized i was putting on almost the exact same outfit as one i had worn
recently
so i just threw on different outerwear to give it a new feel. i had to layer quite a bit since my coats are at the dry cleaners getting cleaned before summer storage. i hate that time of year, my dry cleaning bills are astronomical. i included some close-ups since the original came out so dark. (sorry for the odd crop-and-paste, the most advanced editing software i have is MSpaint. so lame.)
ITEMS (rollover mouse to view detailed picture)
Vince hooded sweater
Rick Owens asymmetrical zip jacket
Prada mohair vest
Les Chiffoniers ankle length skinnies
Miu Miu motorcycle boots
Marc by Marc Jacobs bag
Elizabeth & James knuckle ring and hammered silver ring from the Met
Ann Demeulemeester scarf
and to answer red_soles's question, here are the bags that i use most often. i always forget to include them in my pictures because handbags are usually the last thing i decide on before heading out the door.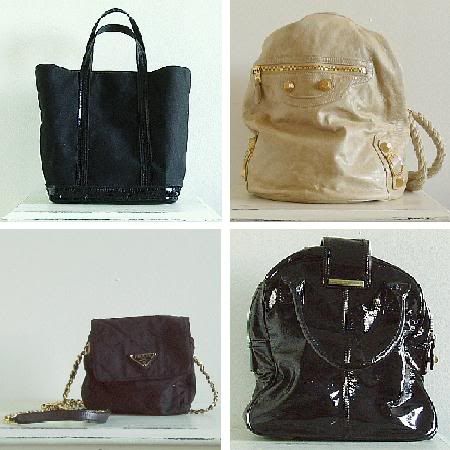 vanessa bruno classic tote, balenciaga duffel that i only break out in the spring/summer, marc by marc jacobs shiny bag that i use when it rains because the water slips right off the slick patent surface, and a prada quilted bag i use for going out at night. i also have a boring men's APC bag that i use for work, and these two bags that i don't use that often - the fluo bag which i love but can't overload and a quilted bag by nila anthony which is huge so i use it if i'm lugging a lot of stuff around or sleeping over a friend's apartment.
i need more bags, especially bright colored ones, but it's so disheartening shopping for one around here. everyone in nyc always has the latest "it" bag so i get sick of seeing it everywhere, no matter how nice it is. i also don't like to spend more than $1k on a bag because i'm always afraid i'll get sick of it (the balenciaga duffel was a good find - i bought it on sale from Distractions in Aspen, CO). i'm not sure what your budget is, but i do like the YSL "easy" bags, they have that subtle Y shape in the front which makes it look kind of sporty and it's not as ostentatious as other logos. i loved it in a color they called "petrol," which was a beautiful teal blue but may no longer be available. for fall i still like the givenchy nightingale in classic black leather, i love the one with the tejus lizard handles. some of the colors and patterns they have out now for the nightingale scare me a little. mulberry is a brand i've been eyeing. one of my favorite bloggers,
gala of amlul
, has a nice collection of mulberry bags. most styles are under $1500 and come in a variety of colors. my dream work bag is a pretentious goyard briefcase painted with my initials, but that's not high on my priority list.
and pretty_face, there are several definitions of heirloom tomatoes, but basically they are tomato varieties that have been around for 50 or more years. many of the seeds have been passed down through generations (kind of like when you hear of families passing down starters for yeast for bread - sometimes they are like a hundred years old!). they are not the prettiest looking tomatoes, but they are delicious. they are sweeter and more fruit-like. in fact i would never cook an heirloom tomato, i just eat them raw. when we were younger and used to take family trips out to the countryside my sister used to eat heirloom tomatoes like she would apples - just as a snack, no preparation, no dressings. get them from a farmer's stand if you can.
and yes, it's 3 am and i can't sleep so this post has gotten really long.