here's what i wore last saturday. it ended up being a decent day weather-wise, despite all my talk of needing a rainhat.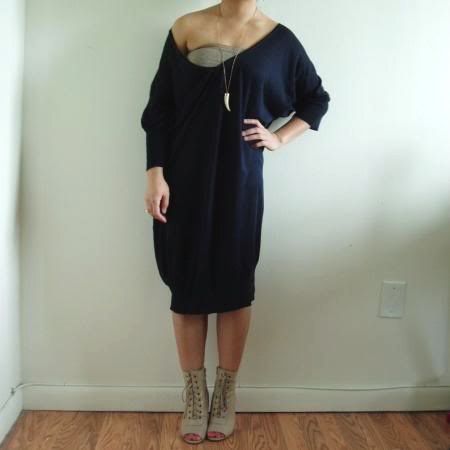 and here's today, though i might not end up needing the jacket, it's supposed to get much warmer later in the day.
ITEMS (rollover mouse to view detailed picture)
may 2:
Paul & Joe oversized sweater dress
Free People lace bandeau
Office London laceup peeptoe boots (via Topshop)
Soixante Neuf tusk necklace
pearl ring
today, may 9:
JCrew men's checked button-down
Helmut Lang (original, by Helmut Lang) pants
Alexander McQueen trench
Alaia studded ankle boots
hammered silver ring from the Met jewelry collection
i love these helmut lang pants, they are the perfect length for showcasing my alaia boots. whenever i spot helmut lang at a consignment store, i can usually tell if it's original helmut lang or if it's link-theory helmut lang, because most of the stuff they churn out under his name nowadays is crap. but here are some tips to tell whether or not it's original helmut lang for consignment or ebay shopping: (1) original helmut lang tags are black with black stitching, although the size tag is often white with black stitching; theory helmut lang has white tags with light gray stitching (2) original helmut lang sizing is italian sizing (i.e., 38/40/42...), unlike the theory sizing of 00-12 (3) **
very important
** original helmut lang items are made in italy. very big difference! i'm not sure where theory helmut lang items are made, but i'm guessing china.