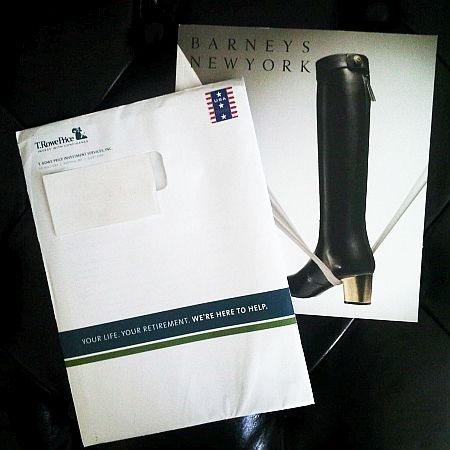 oh, the irony. one day last week these were the only two things in my mailbox - the new Barneys shoes & handbags catalog, and some news about my retirement fund. cruel, huh? at least the universe (or the mailman) has a sense of humor. i'm sure the TRowePrice ram breathed a sigh of relief when i didn't find anything in the catalog i couldn't live without.
may as well stay on topic and post a work outfit, seeing as i'll be working for the next 40 years until i reach retirement age...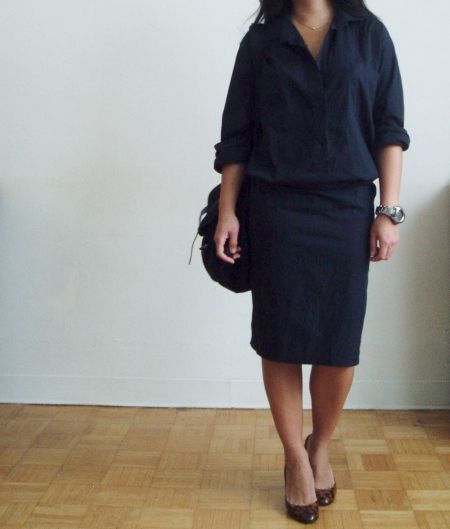 Costume National one-piece shirtdress; Christian Louboutin wedges; Prada bag
i absolutely adore this Costume National dress/one-piece suit, which i purchased many moons ago. i don't wear it as often as i would like because
1) whenever i deviate from my usual trousers + button-down shirt combo and wear something dressier at work, people worry that there's some big meeting they aren't aware of. i should totally mess with them one of these days - "you mean
you
weren't invited to this
very important
meeting today?" j/k, i'm not that mean...
2) the skirt part does not have a back slit so it severely restricts my movement; i have to climb stairs bow-legged and forget about trying to board a bus - i would have to request for the driver to "kneel" the bus toward the curb like they do for the elderly and handicapped! but it's such an awesome piece of clothing and i love it, even if it takes me twice as long to get anywhere because of the half-strides i'm forced to take.
still staying on topic, here are some looks from the Barneys house collection which i would love to wear to work. the pants in the third outfit are perfection:
let's see, if i wanted to update my work wardrobe with these pieces it would cost me roughly $7500 pre-tax (and that's not including the shoes!) while i would much rather have the clothes, i think i ought to put that money in my retirement fund instead. thanks for the ideas, though.