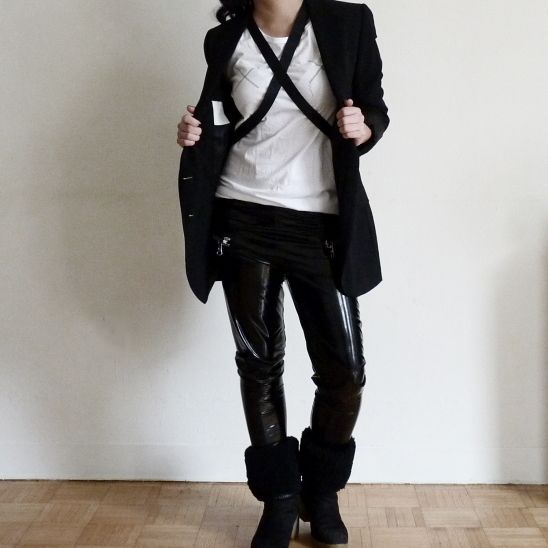 I recently found out that the straps on this blazer exist so that you can carry it around like a backpack, comme ça:
It's a brilliant concept - you can take your jacket off without worrying where to hang it up. I walked around my apartment like this then simply put my arms through the sleeves when it was time to head out. Now I wish all my jackets and coats had backpack straps!
P.S. These are my favorite snow boots. They are "on permanent loan" from my mother's closet. They are vintage by Bally (of Switzerland - go figure, they should know a little something about snowy weather out there...) I have no idea what the exact materials are, but they're fully lined with shearling, have a small wedge heel with non-slip soles and are completely waterproof. I am dreading the day they give out on me, but every winter I take them out of storage in the same condition as the previous year so I think they've got several years left in them.
P.P.S. How do you like my ridiculous t-shirt? I plan on wearing it when I travel abroad - I'll be ready for my TSA pat-down at the airport! Ha!
Helmut Lang (original, by Helmut Lang) blazer // Alexander Wang x style.com tee // Les Chiffoniers latex pants // vintage Bally boots // Hermes leather cuff