i went over my clothing budget by a couple hundred bucks due to some fabulous post-christmas sale finds, which is why i decided to spend new year's weekend in philly rather than partying it up back home in new york. nothing blows a budget quite like a weekend in nyc - pricey drinks and too many shopping temptations!
(Les Chiffoniers stonewashed suede pants; Ann Demeulemeester textured biker jacket; Rick Owens cashmere poncho with leather collar; Rick Owens ankle boots)
all were at least 50% off retail.
- i didn't realize my les chiffoniers pvc pants were such a wardrobe staple until i created the
"2009 favorites" slideshow
. i was elated to find these stonewashed suede ones on sale.
- this ann demeulemeester cropped jacket is perfect. i have been looking for a
non-leather
biker jacket that i could wear with leather pants (leather pants + leather biker jacket might be overkill.)
- the rick owens poncho is my favorite thing - it's rick owens, cashmere, leather, and 60% off - how could i not take it home with me?!
- i was ready to write off 2009 as a bad year for shoes when i found these rick owens ankle boots on sale online. i'm hoping that these work out so that i can have an alternative to my chloe boots, which have taken a beating this fall/winter (and i'm sure you must be tired of seeing them by now!)
you know you've made good choices when you just can't wait another minute to wear your new purchases. here's what i wore on new year's day...
so glad i decided to stay in philly this long weekend. i was able to relax and work on a few small projects.
i also discovered a great consignment store in philly - actually affordable and the people are nice (last time i was at fisch for the hip in nyc the salesperson assured me that 20% off the original retail price on an old, used hermes bag was a "bargain"!!) i snagged some great, classic pieces that have been on my wishlist for quite some time. these were about 75% off retail - amazing!!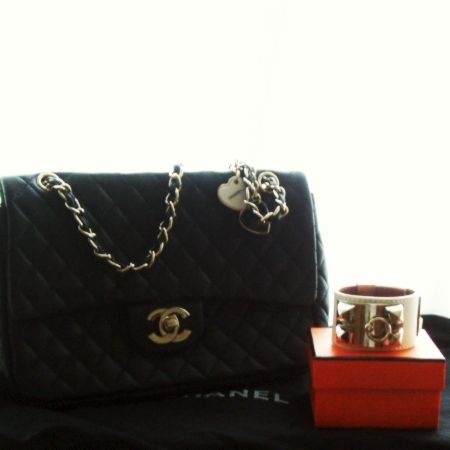 while we're at it, here are some other great things about the city of brotherly love:
- the sandwiches (technically speaking, the "hoagies")
- people, both men and women, still open doors for you or hold doors open, and are on the whole less suspicious and more willing to strike up random conversations than new yorkers. i am still getting used to it.
- the atm machines spit out bills in other denominations besides $20. so if you want to withdraw $50, you can actually withdraw just $50, not $60 as would be the case in ny.
- one bag of groceries cost less than $40.
- no sales tax on clothing and shoes!! i am still amazed when entering my philly address for online orders that the "sales tax" column remains at $0.00. woot woot!
p.s. i know, long post - if you scrolled down this far, thank you.
does anyone want these extra chanel charms? they came attached to the bag but were too noisy for me. i kept two - the black and the white charms - but have no use for the rest. if enough people show interest we can do a giveaway - just leave a comment showing interest (i don't want to include any readers who don't want the charms) and a way to contact you and i'll pick someone at random next sunday. they're fun! the blue one also has "chanel" written on the back and the pink one has a little drawing and "ne m'oublie pas" ("forget me not" en francais) and the chanel logo on the other side. you can make a little charm bracelet or something...
*edit* hey guys - thanks for signing up! i'm excited to pick a winner! i think i will cut short the giveaway and pick someone by this thursday at the latest, instead of waiting until next sunday as originally planned so that i can mail the charms out by the weekend. i'll make wednesday, january 6th at midnight EST the cutoff time for posting comments.

i really wish i had more cool stuff to give away!