haven't done a work outfit post in a while, probably because the "business casual" dress code (read: collared shirts and no jeans) is even more lax here at my new job than it was at my previous one.
i pretty much dress like a boy, which is fine, i'm one of only two female engineers on this project anyway, may as well fit in ;-)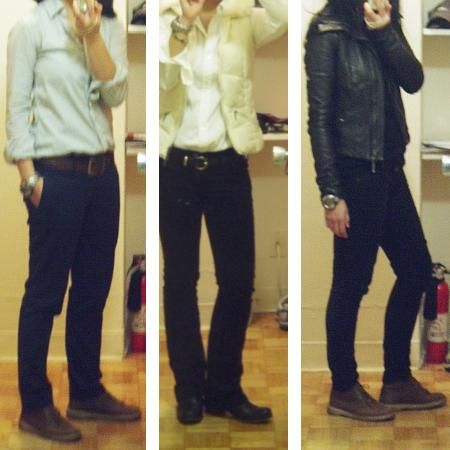 - pants are usually: Theory; JCrew corduroys; or some random italian brand i find in the clearance section of yoox.com (these are usually cut narrower across the hips than american brands)
- shirts are usually: Rugby Ralph Lauren (machine washable! pretty rugged, they last forever); James Perse; Theory; whatever shirt i find that does not have bust darts (for some odd reason i've never liked bust darts)
- shoes are usually: my Miu Miu motorcycle boots with the harness taken off; Clarks UK's "desert boot", shown above
i really wish i could post more often than twice a week, but as you can see, i can only have fun with my outfits during the weekend!