these days my closet cleanouts are less about dumping old clothes than they are trying to figure out why i don't wear certain items as often as others.
take for example this Comme des Garcons dress, which i purchased a long time ago for pennies from a thrift store.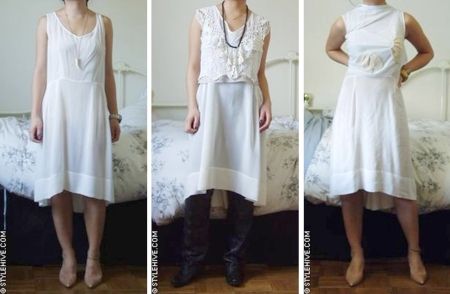 i thought about why i didn't wear it that often and came to the conclusion that it was a little big (it's one size larger than i normally take in CdG) and the length is difficult for me - i would have to wear heels all the time to balance the proportion.
i solved the dilemma by taking it to the tailor and hacking the hem up seven inches. now, rather than it being an awkward length dress, it is a tunic that i can use as a layering piece.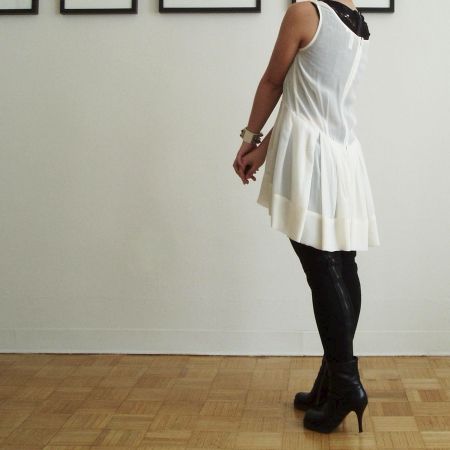 the seamstress did a fabulous job with the hem. she even kept the original style, which is quite a feat considering the delicate silk material.
i felt like i came home with a fabulous new purchase - i can see myself wearing this a lot more often now, in all four seasons.
ITEMS (mouse over to view detailed picture)
Nom de Plume by Yaya lace bustier (from Urban Outfitters/Philly)
Comme des Garcons silk tunic/dress (old, from Housing Works Thrift/NYC)
LNA zipper back leggings
Hermes "collier de chien" cuff
Rick Owens ankle boots (from brownsfashion.com)
also, in my last post someone had commented that a certain Paola Frani skirt seemed to have disappeared from my wardrobe...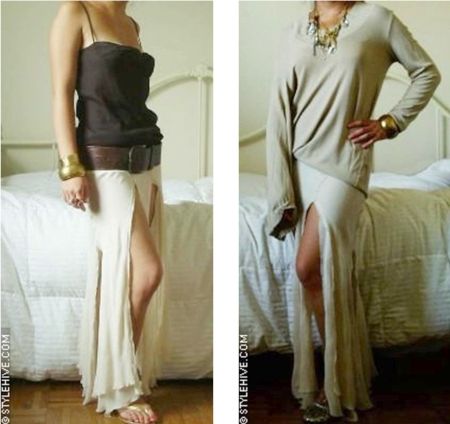 i loved that skirt! but back in the day when i was a poor college student i thought i could save on dry cleaning by hand-washing it in cold water. big mistake! i have held on to the skirt despite its sad shrunken state, so if anyone out there has a miracle formula for unshrinking silk chiffon, do let me know :-(
*** last week i finally debugged the javascript i use for the rollover images, so now i can have more than one post on a page. it took a few trials and errors, so i apologize for messing up feeds and bloglovin updates! but pat on the back for me for figuring it out - programming was my least favorite requirement back in college!