House of Holland garter stockings!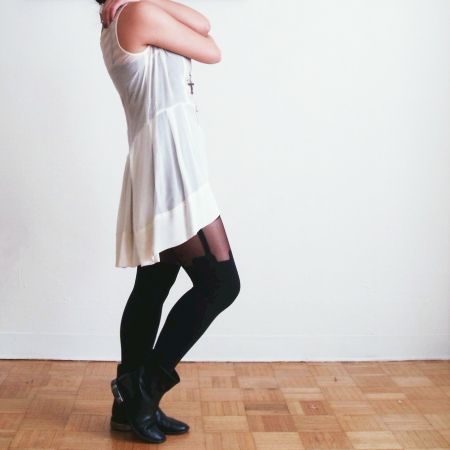 at first i wasn't sure these stockings would work since a) they are one size fits all and b) i am not blessed with mile-long legs. i think i pull them off though!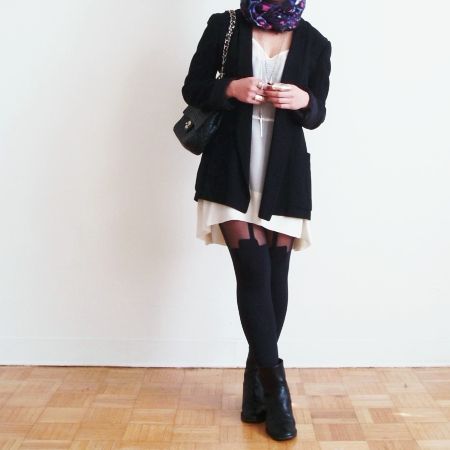 i wore the boots to run errands in the morning then switched to heels to do some window shopping. i should wear heels more often, i'm always running around in flats.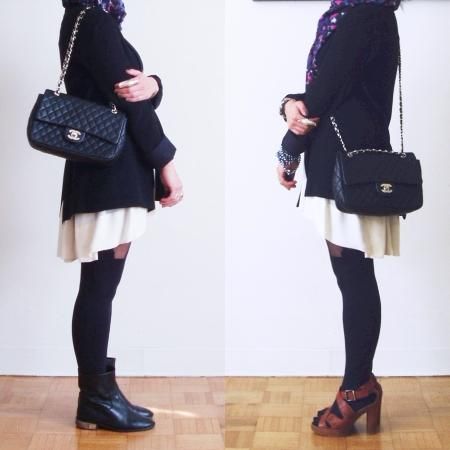 ITEMS (mouse over to view detailed picture)
Comme des Garcons silk tunic (old, from Housing Works Thrift/NYC)
vintage Alaia shorts
Balenciaga boyfriend blazer (old, from eBay)
House of Holland garter stockings (from sevennewyork.com)
Chanel motorcycle boots (old, from Barneys clearance)
Chloe platform sandals (old, from yoox.com)
Alexander McQueen animal print pashmina (from Alexander McQueen/NYC)
Chanel purse with charms
and now for some belated answers to a few questions:
do you only buy things online that you've tried on before?
i do often buy brands that i already own online since i pretty much know how particular brands fit. if it's something i'm unsure about or a brand i'm not familiar with, i will only buy online if the merchant has a good return policy. i know my size in a bunch of different brands so it's easy for me to shop online.
do you have any favorite etsy sellers?
i find etsy a little overwhelming; so far i have only purchased two items, so i am not a big etsy buyer. i do not keep tabs on vendors, i only go on etsy if i am looking for something specific, like a sword pendant.
do you have any favorite eBay sellers?
i don't have favorite sellers on eBay, either. i have a bunch of saved searches for favorite designers. the trick in searching is to use common search engine tricks to maximize a search. for example, one of my favorite saved searches is for avant-garde designers and this is what goes in the search box:
(cdg, comme des garcons, watanabe, demeulemeester, margiela, yamamoto) -(h&m, play,y-3)
the first set of terms in parentheses will search for cdg OR comme des garcons OR watanabe etc. etc., and the second set will exclude certain terms, noted by the minus sign in front of the group - for example, most of the CDG Play stuff on eBay is fake so i exclude those in my search. basically any search trick you can use on google will work in an eBay search field. since the second set is separated from the first set by a space, it will be an "AND" condition - so it will search for all those designers AND exclude certain terms.
here's another example: say i was looking for Stella McCartney items but only from the main line, this is what i would type in the search box:
stella mccartney -(adidas, target, h&m, gap)
so this will search for Stella McCartney items and exclude most of the diffusion lines. i hope you get the idea! if not, i will try to expand in another post...
are your Miu Miu motorcycle boots/Alaia studded boots/DRKSHDW fur-lined hooded sweatshirt/Rick Owens Lilies asymmetrical zipper top for sale?
unfortunately no, those are all keepers!
if i missed any other questions, feel free to ask again!