here's an outfit i forgot to post, it is from two saturdays ago - the debut of my Margiela nail heels!
ITEMS (mouse over to view detailed picture)
Yohji Yamamoto Noir striped tunic (old, from yoox.com)
Les Chiffoniers stonewashed suede leggings (from kirnazabete.com clearance)
Costume National tuxedo blazer (super old, from eBay)
Martin Margiela nude nail heel ankle boots (from yoox.com)
Fendi oversized convertible clutch
Alexander McQueen animal print pashmina (from Alexander McQueen/NYC)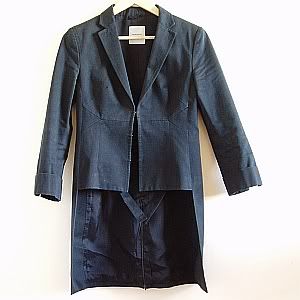 no exciting finds from my shopping trip unfortunately - i decided i would rather enjoy the beautiful weather with friends and family than be stuck in fitting rooms all day! i did sneak in a quick trip to Century21, but everything i wanted was either too big or too expensive.
however, i did pack up my spring wardrobe which was in storage at my parents' place and found a few items i had purchased during end of season sales last year that i never got the chance to wear, so it certainly feels like i did a lot of shopping! i also slowed down my posts during spring/summer last year (warm weather + baseball season = less time in front of the computer and more time outside and/or yelling at the TV (or radio, now that i don't have access to the YES network here in philly...)) so you didn't get to see the bulk of my spring/summer wardrobe. there will be a lot of new things to show you guys. as always, thanks for sticking around!