i found these Etoile by Isabel Marant cotton-linen baggy pants on sale last weekend and had to wear them right away. they are sure to be a summer staple for me. when warmer weather hits i tend to go for big and loose rather than tight and tiny, i don't like clothes clinging to me on those hot, humid days. i paired it with one of my favorite t-shirts by Tao Comme des Garcons (closeup of the t-shirt
here
.)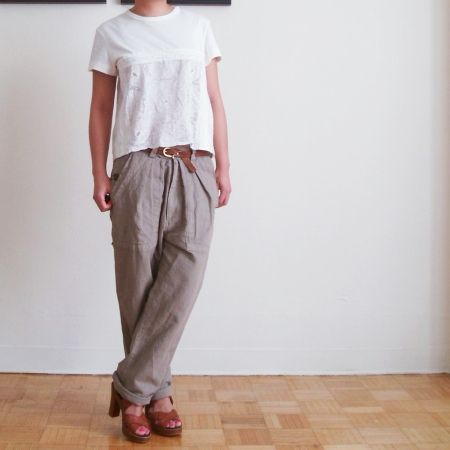 last sunday was also the perfect opportunity to wear my new Escada jacket which i got from
Brook&Lyn's closet swap
. this jacket, which used to belong to Daphne tres jolie of
Jolie-Laide
, was actually one of my first choices from the swap so i was thrilled to get it! i don't have anything like it in my closet.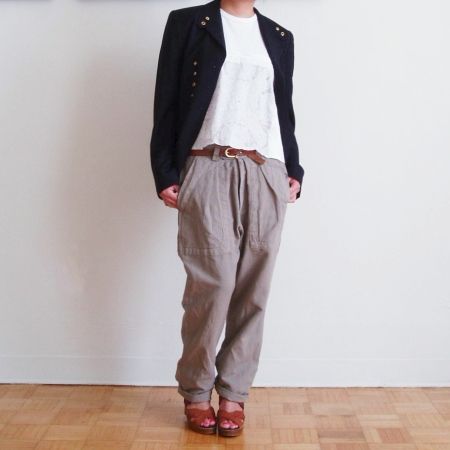 i love the gold detailing against the navy. i'm already planning its next outfit - i'm thinking jeans and a crisp white shirt.
i can't thank Mimi of
Brook&Lyn
enough for setting up the swap and i was very honored to receive an invitation to participate. her selection process for swappable items was quite rigorous, but it was totally worth it in the end - all the items i received were in perfect condition.
it was a great experience and an all-around win-win situation - so thanks again Mimi and thank you to all the participants for giving up such great items!