the only thing that induced me to leave my air-conditioned apartment and venture out into the stifling heat last sunday was a desperate need for an ice cream scoop. i have a drawer full of bent spoons from trying to coax out hardened sorbet straight from the freezer without first waiting for it to soften.
it was fitting then that i chose a dress which kind of reminds me of an orange popsicle... at least it's a refreshing thought?
i only had about 30 minutes before a thunderstorm was predicted to start, so i rushed to the nearest kitchen supply store which happens to be Williams-Sonoma. i ended up dropping $27 bucks on an ice cream scoop! whatever. it is made in Italy and they scoop tons of gelati and sorbetto over there so they know what they're doing - it should last me a lifetime of summers, right?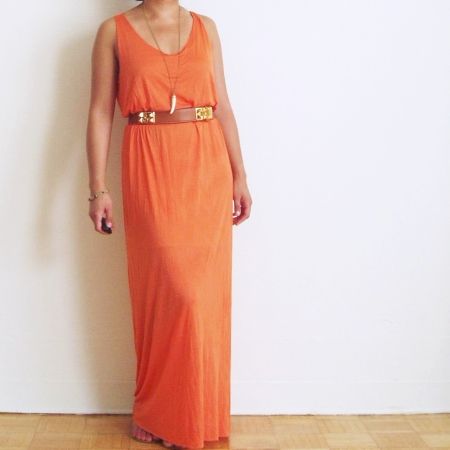 then it was back home straight away for some heaping scoops of Ciao Bella sorbet, and no more bent spoons...
Yigal Azrouel maxi dress; vintage Hermes collier de chien belt; Soixante Neuf tusk necklace; Giuseppe Zanotti rhinestone thong sandals