you know how you keep buying the same thing over and over again? as part of my
"smarter shopper"
resolution, i have compiled a list of items i should stop buying - i have way too many of the same thing! first up on the list are button-down shirts.
Steven Alan is one of my favorite brands for button-down shirts. they are sturdy (made in the USA!) and come in a variety of nice prints and colors. the cut is basically a man's shirt shrunken down to a woman's size without the addition of bust or waist darts or any of those things i don't like in most women's shirts. here is part of my Steven Alan collection - the pink double-gauze in the middle is a new favorite:
i'm a big sucker for blue stripes in particular. if it's striped and it's blue i will probably buy it. the one on the left is vintage Dior Jeune Homme (shown
here
.) the one in the middle is by Martin Margiela Line 4 - i reach for it time and time again and never want to take it off when i wear it. the one on the right is by Rugby Ralph Lauren - a good, dependable brand and not as expensive as Steven Alan:
i also like my shirts oversized. the one on the left by JCrew (shown
here
) and the one on the right by H&M are actually from the men's departments. i don't think i was the only girl buying the JCrew men's shirt because they eventually made a women's version in the same fabric. the one in the middle is by CP Shades from Intermix (shown
here
.) it is falling apart because i wear it so much: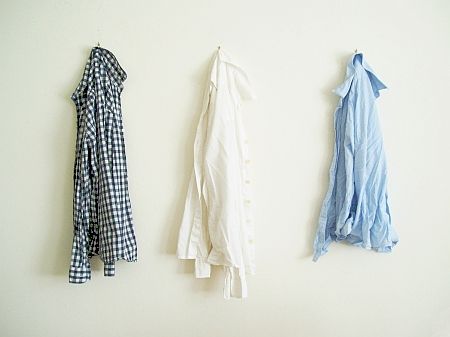 i'm not sure why i keep buying shirts - i suppose it's a good thing i can wear them to work. i do have a preppy side, it must be from all those years of upper east side schooling and uniforms (although i must clarify that i am a west-sider - west side is the best side! i just had to cross central park to get to school every day.) mostly the prepster in me surfaces when i have to run errands after work - i wear the same shirt and shoes i wore to work, swap out my trousers for jeans, and head out.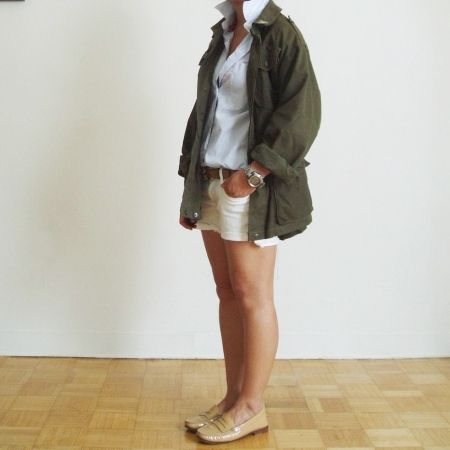 Martin Margiela Line 4 striped shirt; Paige denim shorts; vintage Gucci dragon belt; Tod's patent leather driving mocs; thrifted vintage army shirt (so authentic i found sand in one of the pockets - freaky!)