Rick Owens Lilies jersey is the perfect thing to wear in the summer - drapey,
soft, thin, and comfortable. i've gotten by with the few pieces i own, but i
think it might be time to add to my collection - especially if this "hottest
july on record" trend continues.
Rick Owens Lilies wide-leg pants (old, from eBay); T by Alexander Wang tank
(old, from Petulia's Folly/Philly); Free People lace bandeau; Matt Bernson
gladiator sandals; sword pendant (from etsy.com)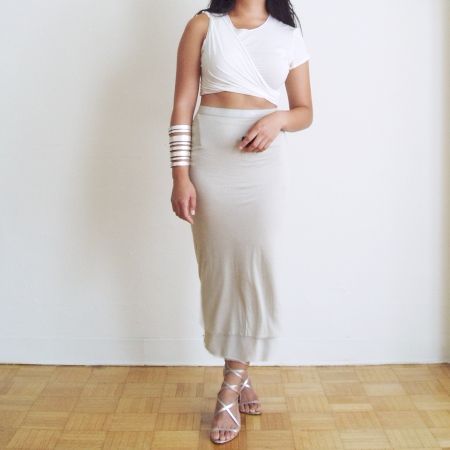 Gucci t-shirt (super old, from eBay); Rick Owens Lilies skirt (old, from
Century21/NYC i think?); Alaia laceup heels (old, from yoox.com); Luxirare
"consolidated" bracelet (from shopluxirare.com)
as you can see, i was channeling my inner Carrie Bradshaw with the latter
look. if you do not have perfect washboard abs like she does (i'm still working
on mine!) i recommend hiding your bellybutton and showing just a sliver of skin
when wearing cropped tops - makes it a bit classier, in my humble opinion.
all images via google image search.