boy did i pick a beautiful day to go to the dentist! had a check-up and cleaning, took the entire day off since i never call out sick and have accrued quite a bit of paid time off. i like my dentist, he's not one of those people with unrealistic expectations like giving up coffee or red wine, and he always notices and compliments my footwear. his midtown east office is also dangerously close to great shopping. just in case i've had a bad trip (like the time i needed a root canal... ouch), it's within walking distance of barneys.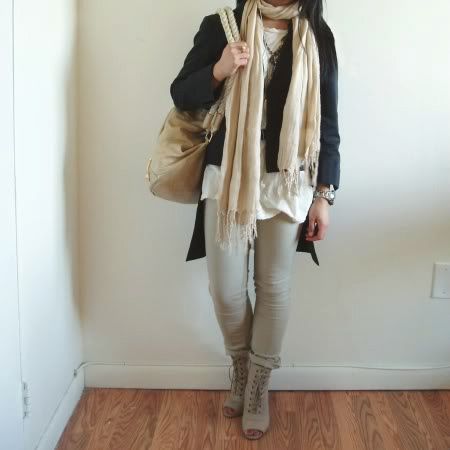 ITEMS (rollover mouse to view detailed picture)
men's weathered tee
Rag & Bone khakis
Office London boots (via Topshop)
Costume National tuxedo jacket
vintage glass necklace from Asia
Soixante Neuf tusk necklace
pearl and diamond ring
2008 Balenciaga duffel bag
those who followed me on stylediary will recognize this Costume National jacket. it is so old now, but still looks crisp. and how cute are these boots?! i was actually in between pedicures today but really wanted to wear these boots, so i hastily applied polish only to the toes that were visible. haha, it's a good thing i didn't go shoe shopping today, that would have been very embarrassing!