i was let off early from work today thanks to the intersection of Jewish and Christian holidays, which is very exciting because a) it kind of feels like a 3-day weekend now, and b) i get to share some of my latest purchases!
visited topshop nyc late last friday and picked up a couple of things, including this embroidered tunic which can be worn as a dress if you're a shortie like i am. i wore this outfit last saturday, met up with the family for dinner on the UWS.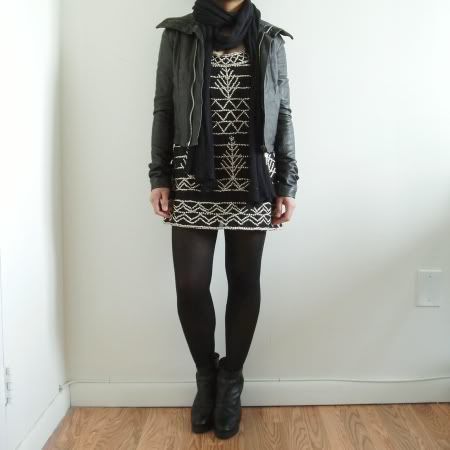 ITEMS (rollover mouse to view detailed picture)
vintage leather jacket
Topshop embroidered tunic worn as minidress
Ann Demeulemeester scarf
Chloe pull-on boots
i also purchased this navy one-shoulder dress at topshop and an amazing feather necklace from greenflea market. not quite sure where i'll be wearing this outfit to, but maybe sans fancy necklace with just simple flat sandals i can get away with it. it's 100% cotton and so comfortable, i'm sure i'll figure out a way to wear it casually in the summer.