well the weather is back to seasonal norms now but here's what i wore last sunday during the heat wave. i guess this is my contribution to the "cropped tee outfit" category in the fashion/style blogosphere.
ITEMS (rollover mouse to view detailed picture)
lace bralette
Seneca Rising cropped tee
Rick Owens Lilies skirt, folded in half
Soixante Neuf tusk necklace
nude leather flip flops from Scoop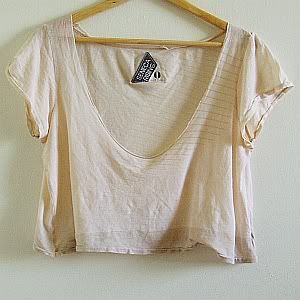 i wore the lace bralette over my more practical but unattractive bra because the tee is cut quite low.
i was not out for very long since i'm not a big fan of the heat. i bought some filet mignon and an heirloom tomato for dinner (the lady at the checkout counter at fairway looked at me and asked "$4.95 for ONE tomato. do you still want it?" i nodded my head, though i kind of wished she had made the mistake of ringing it up as a regular tomato, like the last time i bought an heirloom tomato). quite extravagant during a recession, but i'm only cooking for one and besides i could not find anything i wanted at topshop in my size. haha.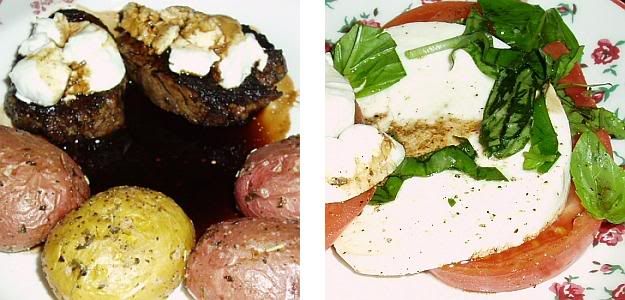 filet mignon with crumbled goat cheese and balsamic syrup; fingerling potatoes roasted with herbes de provence; caprese salad with fresh mozzarella and heirloom tomato
thanks for all your comments!
RE: html code. i can't take credit for it. although i did take a programming course to fulfill a requirement in engineering school, i'm out of practice and not really that good at it. i figure if the code is already out there, why bother. if you view the source code for any page on my blog you'll find the credit somewhere in there and can even copy it if you like, just keep the tag to give credit where credit is due. i did have to tweak it somewhat, mostly for formatting issues, but the code is pretty simple, especially if you know a bit of html.