leopard scarves - a reader's dilemma...
Louis Vuitton x Stephen Sprouse: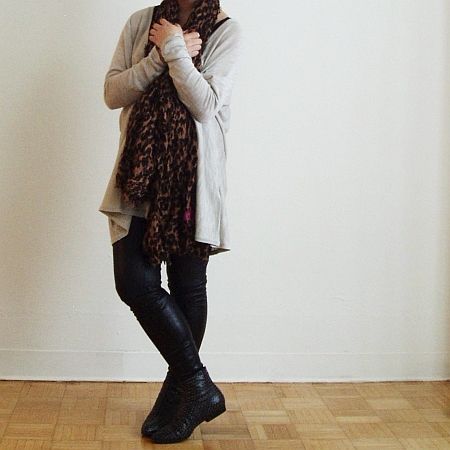 Louis Vuitton scarf; H&M oversized cardigan; Balenciaga leather skinnies; Alaia boots
vs. Alexander McQueen
Alexander McQueen scarf; H&M oversized cardigan; Balenciaga leather skinnies; Chanel boots
it's a tough call, but right now i am loving the alexander mcqueen. it's not as common as the vuitton and the colors are beautiful. it also feels more luxurious and it is slightly bigger. there is also the fact that it is from mcqueen's last collection, which makes me cherish it more.
the vuitton is an absolute classic though. it's so recognizable and makes any outfit instantly chic - if i feel like something's missing from my outfit i just throw on the vuitton scarf and it seems to solve the problem every time. it is the "safer" bet, you will have it and love it forever.
to s.b.: i hope this helps a little - neither scarf is cheap so i know you really have to think about it. the best thing to do is to inspect the scarves up-close before purchasing, if at all possible. let me know if you have other questions.
i too have a dilemma, although not quite as difficult... should i keep this cardigan in both colors? only one? or neither? the beige would be right on-trend for spring, but i'm a sucker for anything black. hmmmm...
p.s. more reader requests on the way - i'm working on a post dedicated to eBay, snapped some pictures of work outerwear for
Pennerad
, and re: rick owens asymmetrical zipper cardi, currently not for sale but i'll let you know if i ever come across one!
p.p.s. thank you to everyone for your suggestions on new sites to check out and new sources of inspiration. i am going through them slowly and have to say you all are a stylish bunch, i've gotten so many great leads! thank you!!!