the weather gods smiled upon us in the northeast last weekend, i was able to run around in short shorts without a heavy winter coat :-)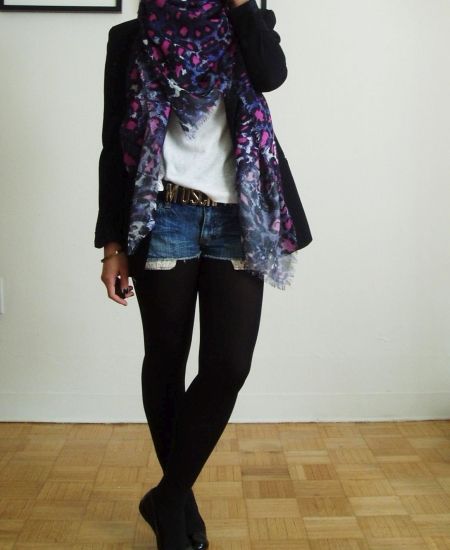 i keep reminding myself that sunday is the absolute worst day to go grocery shopping and vow to go earlier in the weekend, but life usually gets in the way and i find myself stuck in trader joe's fighting people traffic with my cart and glaring at whoever grabbed the last of the organic kiwis...
this outfit was just a casual sunday outfit, but i feel like it was more fashion-blogosphere-inspired than usual. the "fashion blogger look" on my bloglovin'/chictopia/lookbook updates is getting a bit too predictable and homogeneous these days so if anyone has any recommendations for new blogs for me to check out, please share. preferably more forward-looking than retro/vintage inspired, not overly trendy, and please, NO POSTS ABOUT CLOGS!!! i don't care if they're chanel. lol. thanks.
ITEMS (rollover mouse to view detailed picture)
Zara linen-blend t-shirt
Prps distressed denim b00ty shorts (old, from Intermix warehouse sale/NYC)
Yves Saint Laurent "le smoking" jacket (old, from eBay)
Alexander McQueen animal print cashmere-blend pashmina
Wolford Velvet de Luxe denier 66 tights
vintage Moschino belt
Lanvin classic patent leather flats (old, from Barneys sale)
Oliver Peoples "Elsie" sunglasses