i did plan on styling several different outfits with the Christian Louboutin
"rollerball" spikey loafers but got lazy when i realized i would have to take
a lot of my fall/winter things out of their plastic bins, where they currently
reside. so i apologize for this half-assed attempt, which was the best i
could do with stuff i could easily reach for. no worries, you'll be seeing
these shoes with better outfits in the fall! 'til then, here's the preview: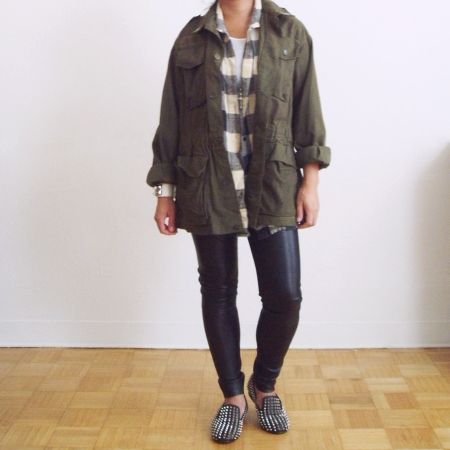 Rick Owens tank; thrifted plaid shirt; thrifted army shirt; Les Chiffoniers
classic leather pants with zippers; Hermes collier de chien cuff; etsy.com
sword pendant; cross pendant from Portobello Market; Christian Louboutin
"rollerball" studded loafers
the pants are the latest addition to
my Les Chiffoniers collection.
i never
thought i would find these on sale, it seemed like all the other styles would
go on sale except these. but there they were on Barneys.com, 60% off.
woohoo! Les Chiffoniers makes the best, most comfortable leather pants.

these aren't Ross's leather pants, y'all.