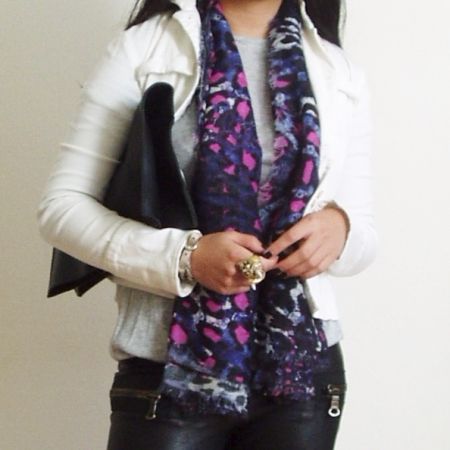 I was given an "I love your blog" prize by
Dead Fleurette.
Thanks so much! I'm very honored, and now it's my turn to answer the questions.
The rules of the prize are:
- Do an entry with the prize.
- Answer the questions.
- Give the prize to 10 blogs.
1. Why did you create the blog?
I used to post regularly on StyleDiary, an online community where people shared pictures of their daily outfits. Many of this blog's followers knew me first from that site. You can view the archive of pictures from StyleDiary on the page above, there's a link below the header. This blog is just an extension of that; it's basically the same concept, except this time my outfit pictures are slightly bigger.
2. What kind of blogs do you follow?
I follow tons of fashion blogs, much more than can fit in my blogroll. I also follow nerdy blogs like xkcd, slashdot, and BoingBoing, and silly ones like The Daily What and
Comically Vintage on tumblr
(<--Click! Best site ever!) I'm a native New Yorker but work in Philadelphia now, so I follow random New York -centric blogs to keep up with the times - I love the New York Public Library's twitter and tumblr, and I'm obsessed with the MTA's time-lapse videos.
3. Favorite makeup brand?
Well, unfortunately I am headless, but if I did have a face I would use La Roche-Posay's Anthelios 60 Ultra Light Sunscreen Fluid, Powder FX mineral makeup, YSL Touche Eclat, and Chanel's Inimitable Noir Obscur mascara.
4. Favorite clothing brand?
I collect original Helmut Lang by Helmut Lang pieces. I don't like the contemporary re-incarnation of the brand under Theory, most of the stuff just looks like wannabe Rick Owens. Incidentally, Kate Lanphear also collects vintage Helmut Lang so she is probably the one outbidding me on all the super amazing pieces on eBay. If Helmut Lang gave up his fine art career, bought back his name, and started designing clothes again, I would empty out my retirement fund and be the first on line (or maybe 3rd, since Kate Lanphear and Carine Roitfeld would probably get there ahead of me.) I do like the regular Theory line for work wear though, and Steven Alan for work shirts. I can't live without my Les Chiffoniers pants - I have 4 so far. Other brands I love and wear are Rick Owens, Ann Demeulemeester, Martin Margiela, and vintage YSL. For shoes I like Louboutin and Chanel. I must also mention that I never buy anything at full retail price, so put your darn claws away!
5. Your indispensable makeup product:
YSL Touche Eclat.
6. Your favorite color:

Beige.
7. Your perfume:
It's always been Jivago 24K.
8. Your favorite film:
Oh man, I was going to pretend that I like artsy French films (which I do!) to sound more interesting, but what I really love are violent films with good plots, and if there are a bunch of good-looking boys in it, even better. So one of my all-time favorite films is Scorsese's
The Departed.
I also like The Godfather, Aliens, and Terminator (the sequels of all those, not so much...) And randomly (also to sound less like a dumbass), I like many of Atom Egoyan's films.
9. What country would you like to visit and why?
Japan because I hear they have fancy toilets that greet you by lifting the toilet seat when you enter the bathroom, and also Sweden for all those great clothing brands (Acne, Weekday, Monki, etc.) that are hard to find in the US.
10. Make the last question and answer it yourself:
What is your greatest fear?
Mediocrity.