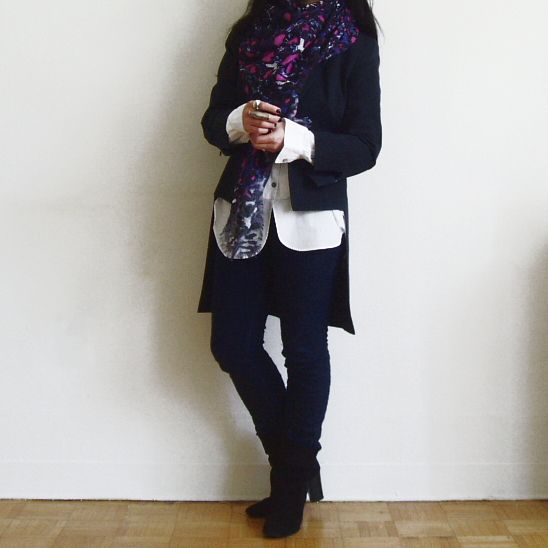 Costume National jacket // Alara tuxedo shirt // Current/Elliot jeans // Italian suede boots from Daffy's // Alexander McQueen animal print pashmina
Q: what is your process for creating new outfit combinations? i don't have a very large wardrobe, yet i often forget i own certain pieces.
A: it doesn't take a lot of time or effort for me to get dressed. after checking the weather forecast, it usually takes me 5, 10 minutes at most to come up with an outfit. i really had to think about this question, but i managed to boil down my process to a few loose guidelines. (these are for dressing in fall/winter, i don't really like my summer style so i'll just ignore that entire season, lol.)
1. most of the time i start with a base layer - for me, that's skinny pants and a slightly oversized top. from there i "build" an outfit, usually by throwing on a sharp, well-tailored jacket and a plush scarf. here are previous versions of the outfit above, all starting off with that base layer:
2. statement jackets are key to my look. this is probably why i can't turn down a good jacket, even though it's the last thing i need more of in my wardrobe!
3. it helps that my fall/winter wardrobe is comprised mostly of basics in neutral colors - white, beige, black, gray. if you walk into my closet blindfolded and pick out a random top and a random bottom, chances are you'll be able to walk out of the house in that outfit - everything matches. (it also helps that everything fits.)
4. when i get dressed i think about texture. shiny with matte, cashmere with leather, cotton shirts with chunky knits, etc. leather and lace is a combination i'll be playing around with this particular season.
5. i also think about balance. this is very important to me, and i think it's the key to looking effortless. i am forever balancing opposites when i get dressed. i pair skinny-leg pants with looser shirts or oversized sweaters. i balance tight dresses and short skirts with boxy jackets and grandpa cardigans. i wear men's style button-downs with leather or latex leggings. i'll throw a tough motorcycle jacket over a girly dress.
a great example of this balancing act is Carine Roitfeld during fashion week. she often wears very sexy thigh-high boots but she'll pair them with a demure knee-length skirt and plain sweater, or a classic trench coat that falls just to the knee. it's all about downplaying sexiness without getting rid of it entirely - taking it down a notch from overt to subtle.
that's pretty much it - an outfit "base", a great jacket, neutral colors, texture, and balance. the rest is trial-and-error, and having a blog or other style diary helps tremendously.
if anyone has other tips to share, please do! i would love to hear your process.